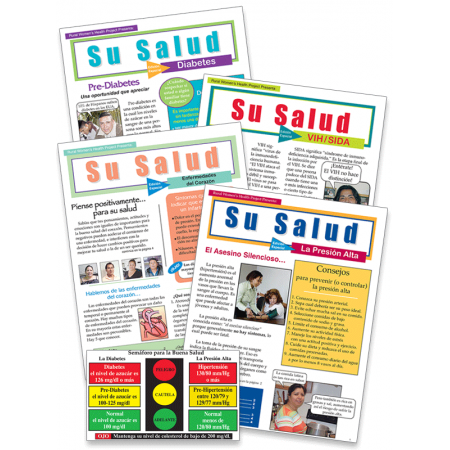 Chronic Health Sampler: Su Salud Magazine Series (with complimentary Pocket Card)
Diabetes:
This issue explores the difference between pre-diabetes and diabetes and provides information about risk factors, symptoms and tips to prevent and manage diabetes.
Enfermedades del Corazón/Heart Disease: 
This 4-page magazine explains various diseases related to the heart. Readers can self-evaluate their risk for heart disease as well as prevention steps.
Presión Alta/Hyptertension:
This issue addresses hypertension prevention, testing, risks and symptoms in short concise articles. The "Ask the Doctor" section answers patient's common concerns. Articles include: "What do the Numbers Mean?," "The Risk Factors," "Too Much Salt," along with tips to prevent or manage high blood pressure.
VIH/SIDA/HIV/AIDS:
This issue in the Su Salud series focuses on HIV/AIDS prevention, testing, risks and symptoms, in concise articles. Highlights are fotonovela testimonials, images, and an "Ask the Doctor" section. Article titles include: "What is HIV/AIDS," "Who Should Get Tested," "How is HIV Transmitted," and "Common HIV Tests."
El semáforo de la buena salud/Stoplight for Good Health:
This colorful, bilingual, pocket card assists the reader to understand the meaning of their blood pressure and glucose readings. Perfect for use at the clinic or outreach activity.  The backside of the pocket card has space for recording test results.
Pricing for set of 100.