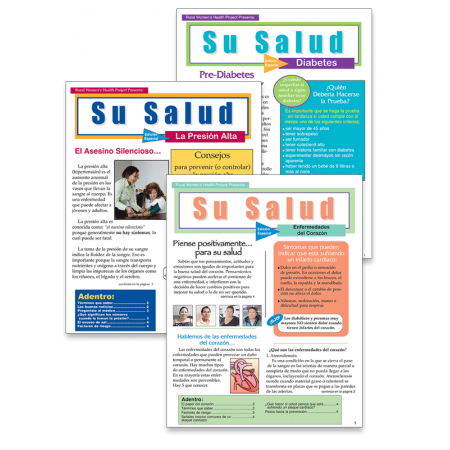 Su Salud - Chronic Illness Package
This package includes 50 copies of the following Su Salud materials:
Su Salud: Presion Alta: This issue in the Su Salud series focuses on High Blood Pressure. It is a four-page, Spanish language magazine explaining the prevention, testing, risk and symptoms in short concise articles. With fotonovela testimonials, images, and an "Ask the Doctor" section, a patient's most common concerns are addressed. Article titles include: "What do the numbers mean?," "The risk factors," "Too much salt," and Tips to prevent or control high blood pressure.
Su Salud: Enfermedades del Corazon: This issue in the Su Salud series focuses on Heart Disease. This 4-page Spanish language magazine explains the type of disease related to heart disease. In addition, readers can self-evaluate their risk for having heart disease as well as steps to preventing the diseases.
Diabetes: This brochure explores the difference between pre-diabetes and diabetes. In addition, the brochure provides readers information about risk factors for diabetes, symptoms, and tips to prevent and control diabetes.