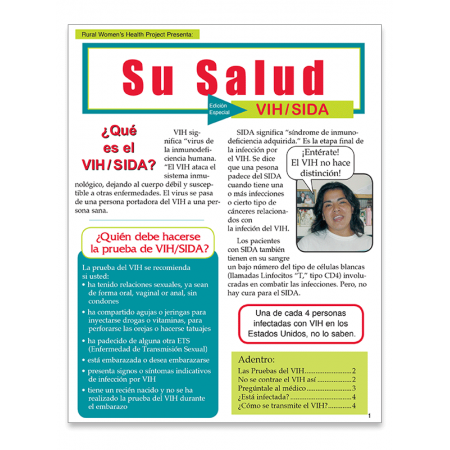 Hot
VIH/SIDA (HIV/AIDS)
This issue in the
Su Salud
series focuses on HIV/AIDS. It is a four-page, magazine explaining HIV/AIDS prevention, testing, risk and symptoms in short concise articles. With
fotonovela
testimonials, images, and an "Ask the Doctor" section, a patient's most common concerns are addressed. Article titles include: "What is HIV/AIDS," "Who Should Get Tested," "How is HIV Transmitted," and "Common HIV Tests."
Suggested for clinic waiting rooms, health education and treatment counseling.
Su Salud also available for Diabetes and High Blood Pressure.
This product has a minimum quantity of 10