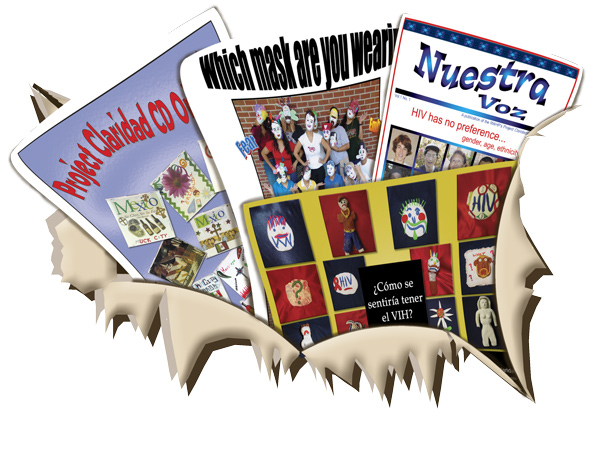 The Project Claridad Tool Box is the result of peer educators survey collection (over 600), survey analysis, outreach and research. All materials are peer developed and community evaluated. The Tool Box has two aspects: educational materials and a brief curriculum, which outlines interactive, popular education tools and activities, to optimize the leadership skills of lay-health workers and community service groups. Topics addressed include:
HIV transmission, testing and prevention
Relationship violence and rape
Stigma and Homophobia
Sexually transmitted diseases
Machismo
Advocacy for persons living with HIV
The goal of this Toolbox is to offer you new education and awareness materials to support your organization's HIV Prevention initiatives. Developed by youth, ages 14-24, these materials reflect the issues, perspectives and vision of rural, Hispanic youth.
Visual materials, with limited text, assist education strategies for youth and immigrant communities. All communities have an increased interest in images and text which reflect their lives. Increased interest leads to increased knowledge, therefore leading to individual behavior change. This theory has been the approach used in the development of the Project Claridad Toolbox materials.
The Toolbox materials are intended for your organization's immediate use in outreach and education. All of the materials promote the CDC HIV/AIDS and STD Hotline and many of the items have space for personalization by your organization and/or other hotline numbers.
Project Claridad was a collaboration of The Rural Women's Health Project, Migrant Education of Putnam County's "Step Ahead To Success" Program Farmworker Coordinating Council of Palm Beach County. Project Claridad was funded by the Pfizer Foundation's Southern Prevention Initiative.